Swimming Pool Area
Palm Tree Installation And Design Installed In Houston, Texas
By Palm Professionals Company
---
Phoenix Dactylifera
Please Share This Palm Tree With...
&nbsp


Click To View A Larger Picture Of This Finished Project

Also Commonly Referred To As:

"Dac" short for Dactylifera
"Diamond Cut Date Palm"
"Medjool Date Palm"
"Oasis Style Date Palm"
"Resort Style Date Palm"
"True Date Palm"
---
In the photos below, you will view some large Medjool Date Palm Trees being installed in Houston, Texas and then completed by landscaping the area around them with beautiful tropicals.
At the special request of this customer, Palm Professionals Company designed and installed this project with this amazing tree as well as all of the other palm trees and landscaping around it in these pictures.
---
| | |
| --- | --- |
| 1. First, Crew #1 Is Planting Some Of the Tall Medjool Date Palms Into Places Where We Will Not Have Access After The Pool Decking Is Installed. This Is When It Is Imperative That We Maintain Good Communication With Other Contractors On These Jobs. | Click On Medjool Photo To Enlarge |
---
| | |
| --- | --- |
| 2. 6 Inches Away! - Only An Experienced Medjool Date Palm Tree Installer Should Attempt To Install These Large Medjool Date Palm Trees In These Close Proximities To Structures. We Only Have 6 Inches Of Clearance Between Our Forks And The Roof. | Click On Medjool Photo To Enlarge |
---
---
| | |
| --- | --- |
| 4. Second, Crew #2 Is Planting The Other 50 Feet Tall Medjool Date Palm Trees Into Their Designated Places Now That The Pool Decking Is Installed. | Click On Medjool Photo To Enlarge |
---
| | |
| --- | --- |
| 5. Again, This Medjool Date Palm Is Also Only Inches Away From The Structure. Only Expert Medjool Date Palm Tree Specialists Should Attempt These Type Of Installations. | Click On Medjool Photo To Enlarge |
---
| | |
| --- | --- |
| 6. Final Step...We Finish The Other Palm Tree Installations And Landscaping.This Entire Design And Installation Was Performed In Houston, Texas. | Click On Medjool Photo To Enlarge |
---
---
Finished Project Seen Below
...Zero Loss Of Any Trees Installed, No Shock, And Palm Trees Are Still Alive Today.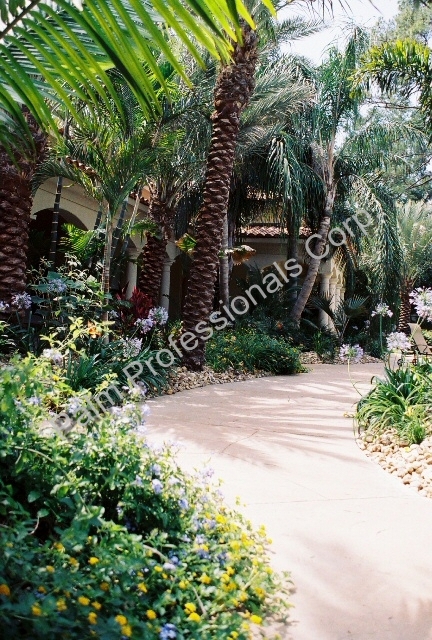 Click On Medjool Photo To Enlarge

Palm Professionals Company


---
CLICK HERE To See Other Medjool Date Palm Projects Using
The Palm Professionals Company.
---
---
For information on buying Medjool Date Palm Trees in Houston or purchasing other palm trees in the Houston area that are for sale:

Call The Palm Professionals Company Today At 713-621-PALM (7256)
Schedule A Tour To visit our Houston Area Palm Tree Collection And talk with a palm tree specialist for free at:

20113 Southwest Freeway
Sugar Land, TX. 77479
CLICK HERE To Browse The Largest Selection Of Palm Trees Available In The Houston Area, Find Out Where To Buy These Quality Palm Trees and Talk Personally With Houston's Palm Tree Specialists.