Medjool Date Palm Tree Installation
By Palm Professionals Company
---
Phoenix Dactylifera


Click On Medjool Photo To Enlarge

Also Commonly Referred To As:

"Dac" short for Dactylifera
"Diamond Cut Date Palm"
"Medjool Date Palm"
"Oasis Style Date Palm"
"Resort Style Date Palm"
"True Date Palm"
---
In the photos below, you will view some of our company's large Medjool Date Palm Trees (Phoenix Dactylifera) being installed.

Please Share This Palm Tree With...
&nbsp
---
---
| | |
| --- | --- |
| 2. CRUCIAL STEP... This is Another Time In The Project Where Hiring A Medjool Date Palm Tree Specialist Is Imperative. We Perform Our Special Soil Amendments While Back-Filling Medjool Date Palm Roots. When Amateurs Or Novice Installers Get This Part Wrong, Your Trees May Die. | Click On Medjool Photo To Enlarge |
---
---
---
---
---
---
---
---
Finished Project Seen Below
...We Supply And Install Medjool Date Palm Trees In
Alabama, Arizona, California, Florida, Georgia, Louisiana, Mississippi, New Mexico, South Carolina, Texas, And Also Export.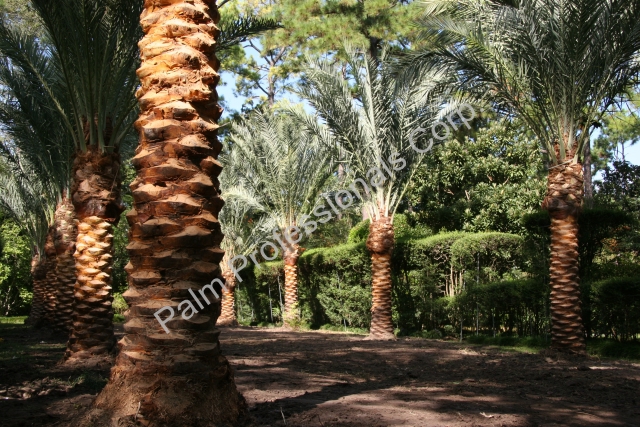 Click On Medjool Photo To Enlarge

Palm Professionals Company


---
CLICK HERE To See Other Medjool Date Palm Projects Using
The Palm Professionals Company.
---
---
For information on buying Medjool Date Palm Trees in Houston or purchasing other palm trees in the Houston area that are for sale:

Call The Palm Professionals Company Today At 713-621-PALM (7256)
Schedule A Tour To visit our Houston Area Palm Tree Collection And talk with a palm tree specialist for free at:

20113 Southwest Freeway
Sugar Land, TX. 77479
CLICK HERE To Browse The Largest Selection Of Palm Trees Available In The Houston Area, Find Out Where To Buy These Quality Palm Trees and Talk Personally With Houston's Palm Tree Specialists.