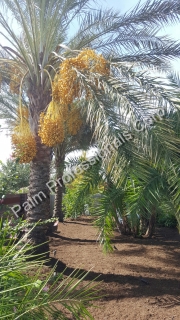 Click Medjool Date Palm Tree &nbsp The fruit is known as a date. The fruit's English name (through Old French), as well as the Latin species name dactylifera, both come from the Greek word for "finger", dáktulos, because of the fruit's elongated shape. Dates are oval-cylindrical, 3–7 cm long, and 2–3 cm (0.79–1.18 in) diameter, and when ripe, range from bright red to bright yellow in colour, depending on variety. Dates contain a single stone about 2–2.5 cm (0.79–0.98 in) long and 6–8 mm (0.24–0.31 in) thick. Three main cultivar groups of date exist: soft (e.g. 'Barhee', 'Halawy', 'Khadrawy', 'Medjool'), semi-dry (e.g. 'Dayri', 'Deglet Noor', 'Zahdi'), and dry (e.g. 'Thoory'). The type of fruit depends on the glucose, fructose and sucrose content.
---
CLICK HERE To See Medjool Date Palm Projects Using The Palm Professionals Company.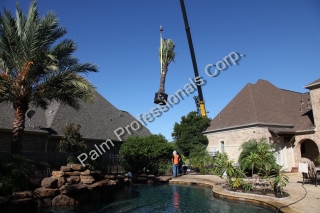 Click On Medjool Date Palm Tree Our Date Palm Tree Expert Team can move palm trees over the top of houses, buildings, and complete any installation that you require. These Medjool Date palms, a.k.a. "True Date Palms", are extremely heavy and require a skilled date palm tree specialist to transplant them with success. Be cautious of hiring an average landscaper or garden center to install Medjool Date Palms that may not have the palm tree skills and knowledge to handle these date palms. Unfortunately, hundreds of people purchase these date palms every year and then use an inexperienced landscaper based on the fact that the landscaper quoted the job at the lowest cost compared to an actual palm tree specialist's quotes.
Also remember, hire a palm tree company that is familiar with your local area, climate, and soil types. There are a number of new nurseries and landscapers showing up in Texas every year that are claiming to be palm tree specialists which are not. Especially in Houston. Some of these people selling Medjool Date Palm Trees are not even from Texas and are not educated to the Texas soils or climate. Palm Professionals Company has 3 generations of Texas growers in our family. This is why architects, landscapers, and homeowners use our Medjool Date Palm expertise and experience when they want a quality and safe Date Palm Tree and Installation.