Silver Queen Palm Trees In Houston
Silver Queen Palm Tree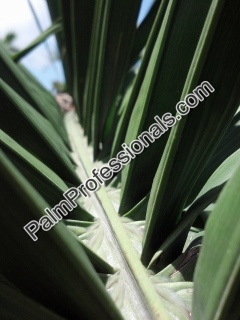 During the last twenty years, the Silver Queen Palm is beginning to appear in colder regions in Texas more often year by year and other areas that demand cold hardy Queen Palm Trees that will thrive. Meanwhile, the more commonly sold Queen Palm Trees like the Arecastrum Romanzoffiana (a.k.a. Piru Queen Palm)CLICK HERE For Info On Piru Palm Trees or formerly known Cocos Plumosa Queen Palm that are being sold are being proven to not thrive in cold climates and harsh freezing winter weather and are failing to thrive or survive in colder temperate climates in comparison to the Silver Queen Palm. In fact, there are a few dozen types of Queen Palm Trees that have been experimented with surviving cold weather for extended periods. The Silver Queen Palm Tree is the only undisputed cold hardy Queen Palm Tree out of these numerous types of Queen Palm Trees that has shown the durability to survive cold temperatures and the Arecastrum Romanzoffiana (a.k.a. Piru Queen Palm) has been found to be one of the least likely types of Queen Palm Trees to thrive in areas that indure a freezing winter situation. CLICK HERE For Info On Piru Palm Trees. The Silver Queen Palm Tree has been used in Houston, Texas for decades and has withstood some of the worst winter weather recorded in the last twenty years in Houston, Texas while other types of Queen Palm Trees in Houston perished.
CLICK HERE To See Where To Buy This Silver Queen Palm Tree In Houston, Texas and Other Palm Trees For Sale In Houston Areas.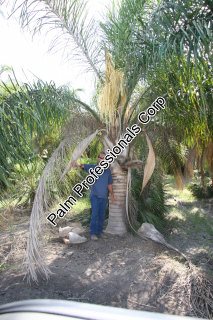 The Silver Queen Palm Tree is somewhat of a newly described palm native to Brazil and is closely related to Syagrus Romanzoffiana. When we say "newly described palm tree", this is only reference to this Silver Queen Palm being acknowledged for the last few decades, where other palm tree species have been around for thousands of years. The Syagrus Romanzoffiana is one of the more cold hardy Queen Palms. This Silver Queen Palm is a palm that has been growing in southern California, Arizona and Florida for decades now and is looking like a contender for the cooler northern California climate. The Silver Queen Palm has definitely proven itself in Houston as the most cold hardy Queen Palm.

The Cold Hardy Silver Queen Palm Tree also has a huge trunk width, especially when compared side by side with the thin and weak looking other Queen Palm Trees like the Arecastrum Romanzoffiana Queen Palm Tree, a.k.a. Piru Queen Palm Tree.


CLICK HERE For Info On Difference Between Piru Palm Trees and Silver Queen Palm Trees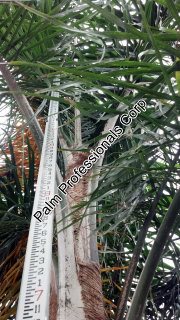 The botanical name is not yet defined while some are calling this tree "Syagrus romanzoffiana var. litoralis" and some refer to it as "Syagrus litoralis". The name Silver Queen comes from the heavy tomentum (fuzz on the leaf stem) and bicolor leaf characteristic. The undersides of the leaf stem on mature specimens have a whitish cast to them producing a silver appearance when the sun shines on them. The stem almost looks like it is painted brilliant white in color. This is also a more robust "queen palm" with a thicker trunk which can measure up to over twenty inches wide and has a dense dark green compact canopy. With cold tolerance reports proven in Houston of down to 15 degrees F for continued days at a time, this Silver Queen survived, although some reports are that there has been slight sign of freeze burn damage at this temperature. This obviously seems to be a better choice for cold spot microclimates than the standard Syagrus Romanzoffiana or Arecastrum Romanzoffiana (a.k.a. Piru Queen Palm). CLICK HERE For Info On Piru Palm Trees. While other varieties of queen palm are known to grow to 60 feet tall, the Silver Queen is only known to grow to 40 feet tall. There will likely be some variables in specimens as there are with many other species and natural hybridization will also most likely occur where Syagrus is available. Also noted is a heavier than usual tomentum that forms around the fibrous newly formed leaf bases. This particular palm likes a slightly acid soil when planting. These require monthly feeding during the warm growing season. The Silver Queen will certainly extend the "tropical look" throughout USDA Hardiness Zones 9 A and B, where other Queen Palms often succumb to cold temperatures.