---
Option 3 (Frost Protection Covers, Cloths, and Blankets):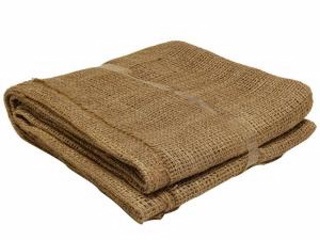 Wrapping your palm tree. This can be done to help protect your palm trees with or without the use of spray protectants listed in Option 2. The use of these cloths after you apply the frost protection spray will give your palm trees a greater chance of winter freeze and frost protection. Just spray the palm tree, wait for it to dry, then wrap.
How to wrap your palm tree with frost protectant cloths, burlap, or blankets:
DO NOT USE PLASTIC WRAPS DIRECTLY ON PALM TREES. READ MORE ABOUT PLASTICS IN OPTION 5
For small palm trees or projects, you can cover the entire top of the palm tree with a frost protective blanket that will cover it all the way to the ground. Make sure that the blanket touches the ground. Sometimes gathering the fronds and pulling them together in an upward position and then tying them together in a group will help during the process of covering trees. For medium size palm trees or projects, if you are unable to cover the palm tree with a frost protective blanket then tie the top fronds together in a bundle as described above. Now, after tying, the trunk and tree fronds should be in a vertical pole-like position that will enable you to wrap the palm tree trunk and top fronds. The top of the palm tree (where the fronds grow out of the trunk) is very sensitive and needs to be wrapped thick. If you wrap the tree so thick that all sunlight is not allowed in to the tree, then you must uncover the palm tree again after the freeze warnings are over.
For large projects or large, tall palm trees, wrapping and unwrapping the palm trees becomes more unpracticable, it's dangerous, and almost impossible to do. We recommend calling a palm tree specialist.

HIRE A PALM TREE SPECIALIST IN HOUSTON..Spaces Are Limited..Do Not Wait Until The Last Minute To Call. Call Today 713-621-PALM(7256)

If you would like to have your palm trees protected and sprayed by a palm tree specialist in Houston and surrounding areas then call 713-621-PALM(7256) and ask about this special frost protection service that we can apply to your palm trees this winter.